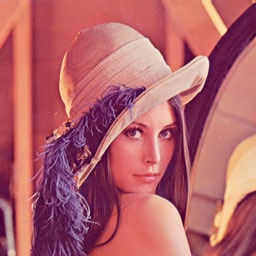 In one of the computer graphics paper for PG, i had to perform morphological operations on an image. The professor asked us to use Lena's image for the above operations. He also asked us to research about Lena and also why she is called 'First Lady of Internet'!
According to Wikipedia and many stories around the web, this is how Lena came about to be the face of Computer Graphics.
Alexander Sawchuk estimates that it was in June or July of 1973 when he, then an assistant professor of electrical engineering at the University of Southern California Signal and Image Processing Institute (SIPI), along with a graduate student and the SIPI lab manager, was hurriedly searching the lab for a good image to scan for a colleague's conference paper. They got tired of their stock of usual test images, dull stuff dating back to television standards work in the early 1960s. They wanted something glossy to ensure good output dynamic range, and they wanted a human face. Just then, somebody happened to walk in with a recent issue of Playboy. (wikipedia)
So the engineers tore the magazine's front page, cut the Playboy models face and submitted it as a test image for graphic processing. The Playboy model was no other than Lena. This is how she became called the Lady of the Internet.
Nearly every computer graphics image manipulation utilises Lena's image as dummy or test image. So for this assignment and any other future assignments, I am using Lena's image for graphic processing.
Verily, Lena is a beautiful woman and i totally understand the geeks of 1970's for using her image and dubbing her as 'The First Lady of Internet'.