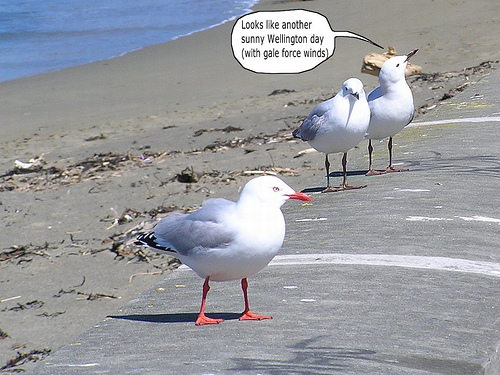 It is raining heavily in Wellington, what is usually called a torrential rain. As I sit in my apartment and look at the falling rain, it occurred to me that the rain is falling sideways. It reminded me of a friend who once said that 'Rain falls sideways in Wellington!'.
I have just started contracting in Wellington, and I am still getting used to the cold and always windy weather. For me being new to this city, I find it quite amusing as I see different attributes of this city as each day passes. I sincerely have to agree that on a beautiful sunny day, Wellington is the place to be.
So me being a geek and nothing to do today, I thought I write up a pun-algorithm to detect Wellington. Thus the pun intended code below!
 
//Alert: this code has not been tested, use at your own risk, lolz
 If [Country.isNewZealand]
       // a simple approach
       if [weather.isWindy]
          shout ('Wellington')
       endif
       //complex approach
      if [weather.isRaining && rain.fallingDirection is 'Sideways']
         shout('Wellington')
      endif
      //checking for auckland 
      if(city.ICanSeeSkyTower)
          shout('Auckland')
      endif
 endif

image copyright: http://www.flickr.com/groups/photoswithspeechbubbles/discuss/72157614689236385/